RIKEN KEIKI is a manufacturer of gas
detectors for industrial gases.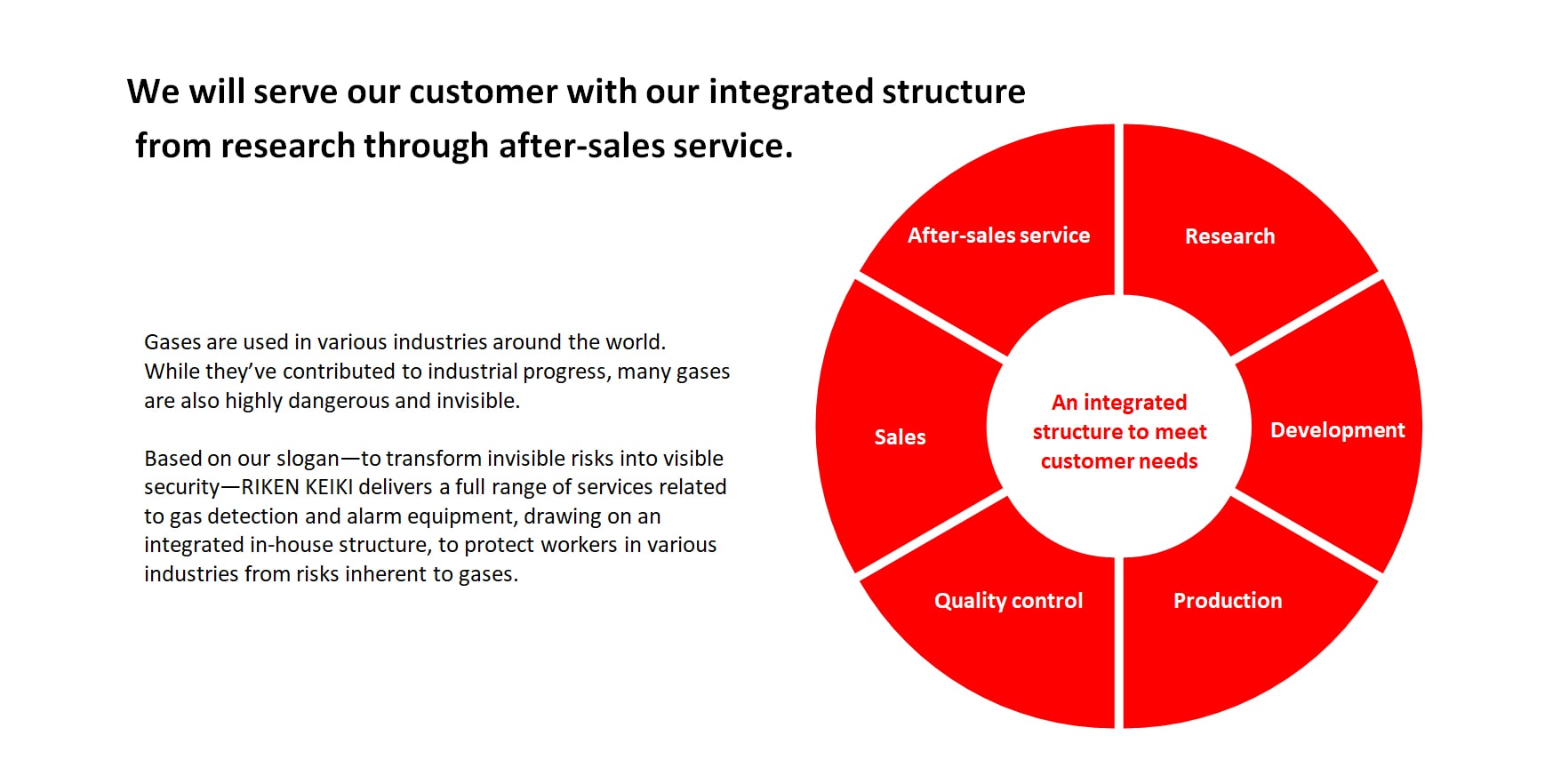 Research

Core competence

Applying state-of-the-art technologies, we develop in house all the sensors that lie at the heart of our gas detectors.
We pursue R&D activities on a daily basis to develop proprietary sensors unmatched by competitors worldwide.

Development

Development to realize safety and peace of mind

Many fields in which our gas detectors are deployed involve exposure to harsh conditions. Among other solutions, we develop our electrical circuitry, mechanical, and software process designs to ensure our products can be used with peace of mind in any field.

Production

Diversified small-lot production system

We've established production systems that enable flexible production of diverse sensors and other products in small lots.

Quality control

Uncompromising quality

We undertake strict checks in process control, testing and evaluations, inspections, and other activities to deliver quality products customers can use with peace of mind.

Sales

Solutions-based sales

Our highly experienced specialized staff propose products selected from our wide-ranging lineup best suited to customer needs.

After-sales service

Reliable manufacturer inspections

Our staff at service centers across Japan handle after-sales services from the introduction of our company's products through maintenance, including adjustments, repairs, and statutory inspections.
The field of RIKEN KEIKI can be any places where gases may occur and any industries where gases are used.
Semiconductor manufacturing (pre-processing)

The manufacturing processes for semiconductors that play essential roles in our everyday lives incorporate various gases, centered on special material gases.
Gas leak detection systems prevent accidents due to these gases.

More

Petroleum refining

The petroleum products and petrochemicals (including intermediary products) used in various industries are produced in various processes, starting with processes for refining raw crude oil. Gas detectors are used to ensure safety in refining and associated activities.

More

Steelmaking

Steelmaking involves various processes and materials ranging from raw iron ore to completed steel products. Because the gases generated in each process pose flammability, toxicity, and other risks, gas detectors are deployed to keep workers and facilities safe.

More

Power generation

Gas detectors are used in the power generation industry, a key element of our social infrastructure, to keep workers and facilities safe, especially at thermoelectric power plants and biomass power plants, which generate power by burning fuel, and at geothermal power plants, which handle terrestrial heat.

More

Municipal gas

Municipal gas is produced by compounding the raw material of LNG with several other gases to regulate parameters such as heat value and combustion rates.
Gas detectors are used to measure calorific value, which determines the quality of municipal gas, and to monitor for flammable gas leaks.

More

Waterworks and sewers

Waterworks and sewer systems are important elements of the social infrastructure that support our everyday lives. Gas detectors are used in these industries to help keep workers safe.

More

Food products manufacture

Gas detectors are used to keep workers safe in various production processes for the food products that enrich our lives.

Automobile production

The auto industry, one of Japan's core industries, involves a broad range of related industries, including auto parts production, machining, and assembly. Gas detectors are used for various applications, including checking the safety of working environments.

Shipping

The shipping industry draws on a wide range of ship types to transport various cargo including crude oil, LNG, containers, iron ore, and wheat and to support global logistics. Gas detectors are used to manage safety on board these ships.

Fire and police departments

Sites of accidents and disasters pose high risks associated with flammable gases, oxygen deficiency, and toxic gases. Gas detectors boost safety for the courageous first responders who tackle the challenges in this field.

Pharmaceutical production

Pharmaceutical production processes involve chemicals, organic solvents, and other materials. Gas detectors maintain safety in these working environments.

Civil engineering and construction

Gas detectors are deployed in sealed spaces exposed to gas buildups, such as construction sites for underground tunnels, buildings, and other facilities, to prevent accidents involving oxygen deficiency, toxicity, or other factors.

Volcanoes and hot springs

Volcanic gases emitted from volcanoes can contain harmful gases such as hydrogen sulfide (H2S) and sulfur dioxide (SO2), in addition to carbon dioxide (CO2).
In addition, volcanic hot springs may contain gases such as hydrogen sulfide (H2S) and natural gas (mainly methane). Gas detectors are used to ensure safety in indoor locations and other places susceptible to gas buildup.

Research facilities

Research facilities often include enclosed interior spaces and use various gases and chemicals, such as the carrier gases used in analytical equipment and liquid nitrogen. Gas detectors are essential to assuring the safety of these working environments.

Papermaking

The process of producing pulp from wood chips produces sulfur compounds and other byproducts.
These byproducts are recovered to minimize their release into the environment.
Gas detectors are used to assess environmental impact and workplace safety.