Contributing to environmental conservation
RIKEN KEIKI addresses environmental conservation from two perspectives. One involves joint activities involving low environmental impact and earning ISO 14001 environmental management system certification. Examples of our corporate activities based on this perspective include the selection of eco-friendly materials at the R&D stage, promoting green procurement, and the development of production systems that generate less waste and pollutants. Another way we contribute to environmental conservation is through product development. In this area, we have developed devices to detect and measure environmental pollutants governed by volatile organic compound (VOC) regulations and countermeasures against formaldehyde—devices that have earned a strong reputation in the market. We believe we can contribute in many ways to safety and environmental conservation in the 21st century.
ISO14001:2015
Review agency
High Pressure Gas Safety Institute of Japan ISO Review Center
Scope of certification
Design, development, manufacture, and maintenance of gas detector and alarm equipment and other measurement instruments
Subject sites
Headquarters, Development Center, Production Center, Hakodate Factory
Registration no.
96ER-005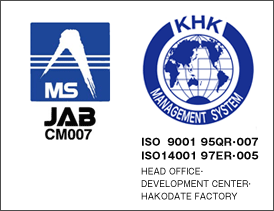 Green procurement
RIKEN KEIKI complies with all domestic and international environmental laws and regulations and strives to procure materials with low environmental impact, not just internally but throughout the supply chain. As laws and regulations on control of chemical substances contained in products grow increasingly strict, we have established green procurement guidelines and verify conformity to various laws and regulations by ascertaining information on the chemical substances contained in raw materials, components, and other inputs.

Environmental policies
Environmental philosophy
Recognizing environmental conservation as fundamental to the continual progress of humanity, we undertake various activities in line with our management philosophy: contributing to societal progress based on the enduring theme of realizing environments in which people can work with peace of mind.
Action guidelines
In various activities related to domains ranging from product development and design through shipment, we strive to carry out corporate activities that account for environmental impact, including promoting the conservation of energy and other resources and reductions in and the appropriate processing of waste and emissions.
We deliver products that contribute to environmental conservation in a timely manner.
We constantly strive both to maintain and improve our environmental management system. Our goal is to improve environmental performance by reducing waste, as well as by minimizing pollution in terms of, for example, switching to materials that help reduce pollution.
We promote green procurement by prioritizing the use of materials characterized by low environmental impact.
We strive to protect the environment by ensuring thoroughgoing compliance with environmental laws and regulations, official standards, and other requirements, as needed.
We establish annual environmental targets and plans for various goals and review these periodically and as necessary, taking changing circumstances into consideration.
We strive to ensure thorough understanding of this policy and to raise awareness of environmental conservation issues among all those who work for us or on our behalf.
We publish these policies on our website and disclose them as requested by external parties.
Adopting renewable energy
In April 2021, we shifted entirely to the use of electricity from renewable energy sources at our head office building, in Tokyo's Itabashi Ward.*1 (The new electricity we use satisfies RE100*2 criteria.) Converting to electricity obtained from renewable energy at our head office has cut its annual CO2 emissions by approximately 216 tons to effectively zero.
Furthermore, our Hakodate factory will be also fully powered by renewable energy from this November after our R&D Center and Production Center are switched to work by green power source.RIKEN KEIKI will contribute to a carbon-free society not merely by adopting renewable energy, but by continuing to promote energy conservation activities.
We will contribute toward achievement of the two Sustainable Development Goals (SDGs)*3 at above through the adoption of renewable energy
*1 Based on a combination of electricity consisting 100% of power from renewable energy sources (including feed-in tariff electricity) and non-fossil certificates with tracking
*2 An international initiative under which companies strive to secure all electricity used in their businesses comes from renewable energy sources
*3 International goals to realize a better and more sustainable world by 2030, consisting of 17 goals and 169 targets.